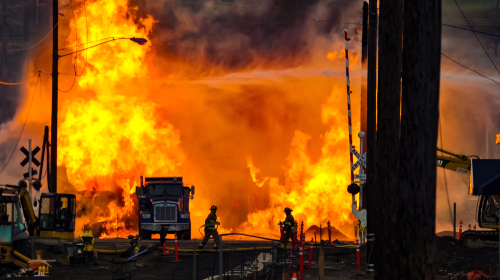 Trump threatens to withhold California fire aid, citing state's 'gross mismanagement' of forests
Just hours after President Trump issued an emergency declaration to provide funds to help firefighters in California as they battle at least three major wildfires across the state, the president threatened to withhold the federal payments — citing the state's "gross mismanagement" of its forests.
Tweeting from Paris early Saturday, Trump wrote that "there is no reason for these massive, deadly and costly fires in California." He added that "billions of dollars are given each year, with so many lives lost, all because of gross mismanagement of the forests. Remedy now, or no more Fed payments!"
The Camp Fire in Northern California, which has destroyed nearly 6,500 homes and killed at least nine people, appears to be the most destructive fire in at least a century. According to the California Department of Forestry and Fire Protection agency, the fire burned around 100,000 acres and just 20% is contained.
The wildfire in the North incinerated most of the town of Paradise with flames, authorities said Friday. "There was really no firefight involved," Capt. Scott McLean of the California Department of Forestry and Fire Protection said, adding that the crew had to focus on helping people to get out alive. "These firefighters were in the rescue mode all day yesterday."
The town, where around 30,000 people live, was struck by the blaze that destroyed nearly 7,000 structures, mostly homes, in just a day.