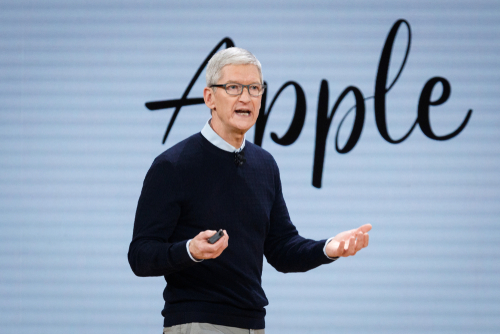 Fan favourite updated with Touch ID and new keyboard and launched alongside new Mac Mini
Apple has finally updated its most popular laptop, the MacBook Air, with retina display and Touch ID fingerprint sensor.
The new lower-cost Apple notebook adopts many of the technologies Apple introduced with the MacBook Pro in 2016, including a large Force Touch trackpad, new keyboard and two Thunderbolt 3 ports in the side for power and connectivity.
The new MacBook Air has a 13.3in retina display, thinner bezels and new stereo speakers that are 25% louder than the previous version. It also has Apple's Touch ID fingerprint scanner and T2 security chip for securely logging into the machine or using with third-party apps.
It ships with eighth-generation dual-core Core i5 processor along with 8GB of RAM and 128GB of storage, costing $1,199 in the US, undercutting both the smaller 12in MacBook and the cheapest MacBook Pro in cost.
Apple said the new laptop is also made from 100% recycled aluminium and is 10% thinner than the previous model, at 15.6mm thick and taking up 17% less volume. It weighs 1.25kg, which is more than 100g lighter than the previous version. It also has about 12 hours of battery life.
The once-popular MacBook Air was last updated in early 2015 with Intel's fifth-generation Core chips and graphics. Things have moved on greatly since 2015 with Intel's latest eight-generation chips providing not only significantly increased processing power shifting to a quad-core configuration, but also longer battery life thanks to improved efficiency.
For many, the £1,249 12in MacBook, which uses Intel's Y-series ultra-low power chips, has not been a suitable replacement, while the 13in MacBook Pro without a touch bar, which is also £1,249, has been too expensive. That has left users and businesses hanging on to old machines for longer than expected. Applewill hope they jump to purchase the new MacBook Air.
Mac Mini
Apple also updated its smallest desktop computer, the Mac Mini, which was last updated in 2014. It now has eighth-generation Intel quad and six-core Core processors, up to 64GB of RAM and SSDs. Apple said the new Mac Mini was up to five times faster than the previous generation, which is often used as a small macOS server.
The new machine has four Thunderbolt 3 ports, alongside HDMI, Ethernet and traditional USB-A ports.
It starts with a 3.6GHz processor, 8GB of RAM and 128GB of storage for $799 in the US.
Both machines were made available to order on Tuesday and will ship on 7 November.